1 FREE Service For New Clients
Give The Gift Of Wellness With
Our Gift Card                   
Used to address specific issues – often medical – this advanced massage technique is far more than just a Swedish massage that digs deeper and harder into knotted muscles. In addition to stress relief, it's often used to treat painful conditions like bursitis and arthritis, as well as diabetes and high blood pressure. On the mental side, it can also help with conditions like persistent depression and fatigue.
Using firm pressure and slow strokes, deep tissue massage penetrates deep into layers of knotted muscle and tight fascia (the smooth and slightly stringy connective tissue that surrounds each muscle). Particularly effective for breaking up scar tissue, as well as painful knots and adhesions, this type of massage releases bands of painfully constricted muscle tissue that inhibit circulation, causing sore patches of inflammation.
Initially developed for dealing with sports injuries, repetitive motion damage, sprains, and strains, deep tissue massage techniques are specially designed to encourage faster healing, by methodically applying movement and pressure to connective tissues and muscles.
In the hands of an experienced massage therapist (like those working at the Magnolia Poconos Medi Spa), a deep tissue massage session usually ends with a feeling of relaxation and even fatigue. In fact, the after-effects are very similar to a good workout.
Our massage therapists start every session with gentle movements and lighter pressures, warming up the muscles, tendons, and ligaments before moving deeper into problem areas. Here are some specialized techniques used during Swedish and deep tissue massage sessions:
Effleurage: purposeful strokes glide firmly over the skin, varying in intensity and pressure in order to elongate the muscle, easing tension and soothing aches and pains;
Petrissage: affected areas are targeted by heavy palm pressure, wringing, and kneading the skin to reach deeper muscle layers;
Tapotement: rhythmic taps and smacks ease stiff muscles and loosen lymphatic build-up trapped in the back of the torso, maintaining a steady speed and momentum;
Friction: using the sounds and forefingers, the therapist applies deep pressure through circular movements, releasing stored-up tension from deep in the targeted muscles;
Vibration: the final stage of a traditional massage session, when the therapist applies hand-rocking motions all over the client's body, breaking up any remaining tensions and negative energies still trapped in muscle tissue.
Cross fiber friction: used to break up constructive scar tissue by non-oiled strokes across muscles, ligaments, or tendons, this deep massage technique promotes flexibility and pliability by reducing fibrosis;
Active release: another effective way of loosening restrictive scar tissue through applying the pressure, this technique makes the muscles repeatedly loosen and construct at problem points;
Trigger point therapy: once a tight tension spot is located through fingertip examination, the therapist presses firmly on the targeted area over and over again, until the knotted fibers loosen, releasing build-up tension and easing pain;
Myofascial massage: one of the most effective deep tissue massage techniques, this involves using clenched fists and knuckles to press targeted areas firmly and repeatedly, releasing tensions from long-term pain spots that are often related to old injuries.
Takeaway: Although the practitioners at the Magnolia Poconos Medi Spa are happy to follow client instructions on the dips and firmness of any treatment, deep tissue massages are best suited to people with sports injuries or scarring, who are used to healing pressure on problem areas.
Book Your Deep Tissue Massage Session Now! Call: (570) 671-2121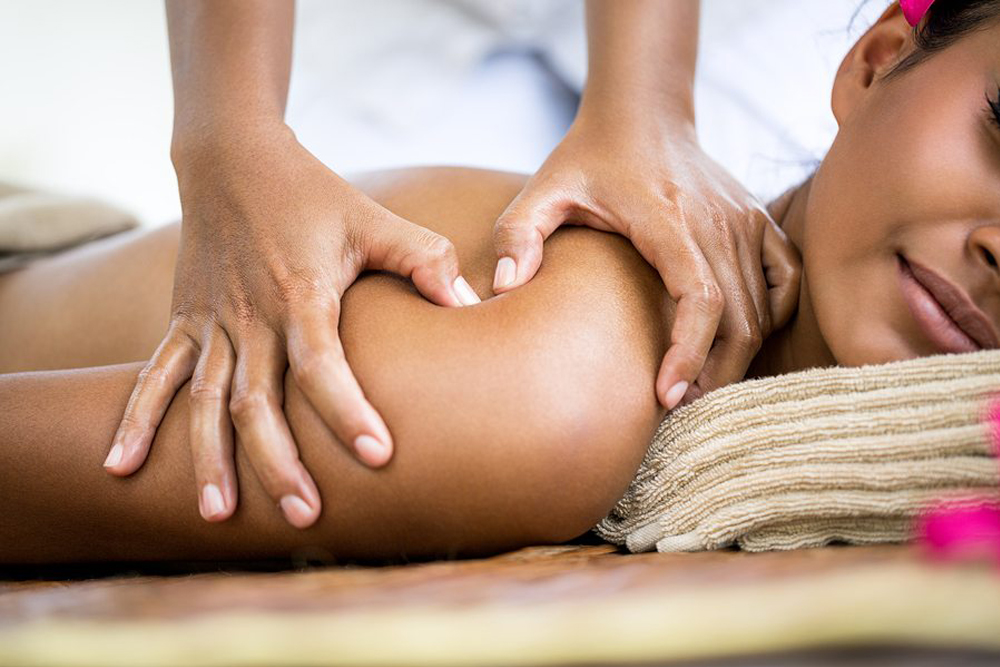 How Often to Use Deep Tissue Massage
Weekly use is recommended